So I recently read Leo Babauta's piece on getting out of a rut.  Back from China for over two months now, I'm faced with such a challenge.  I still don't have a place of my own (bouncing back and forth from parents' abodes and friends' sofas), and my art, writing, and blogging have suffered from this transience.  Leo suggests challenging yourself to examine what exactly it is you're passionate about, what you care about.  Re: this food blog, here goes:
I started Stoveless because I didn't have a stove–just two little burners and a big knife. Now I've got all the ovens America has to offer, but I'm not finished yet.  In fact, I hope to build Stoveless into something bigger than just make-do-with-whatcha-got.
I aim to go stoveless because:
1) ovens use a lot of energy
2) I like taking shortcuts
3) cast iron skillets are an awesome alternative to baking on nonstick pans
4) the challenge of adapting recipes forces me to be inventive and know my ingredients.
5) I get an excuse to buy these!  Vive Le Creuset!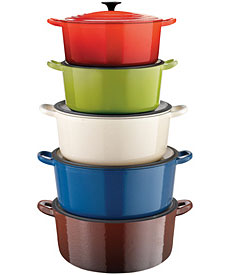 So, fingers crossed for a place to call home–and a fruitful year of blogging to come!